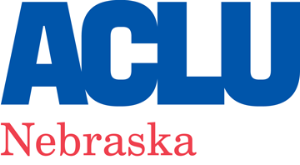 25-WORD DESCRIPTION:
For over 50 years in Nebraska, the ACLU has worked in courts, legislatures, and communities to protect the constitutional and individual rights of all people.
 
HOW WE USE YOUR CONTRIBUTIONS:
$50 pays for 1,000 "Know Your Rights" brochures for community members. 
$75 a month provides informational sessions for DACA Youth on current immigration policy. ($900)
$100 a month funds our "Know Your Rights" training sessions. ($1200)

A STORY FROM OUR AGENCY:
Megan, a 16­ year­ old ACLU of Nebraska client, shares her heartbreaking story of solitary confinement:
"My cell was about the size of a queen­-sized bed. There was a small bed, a desk and a chair. There was no counselor to talk to about what I was going through. I was only able to talk to my mom every few days, sometimes for only three minutes. While I was at Geneva, I was in a constant state of depression. I had anxiety attacks and when I tried to get help for them, no one cared. While I was there, at least two girls attempted suicide and many others talked about it. I can honestly say that for the first time in my life, I thought about hurting myself too. Just like at Madison, I spent a lot of my time alone, confined to my cell, desperate for anything that reminded me of my old life. At different times while I was locked up in Madison and Geneva, I was not allowed talk with my lawyers and my family. Thankfully my family fought back to get me out and to help me share my story. "
(https://www.aclunebraska.org/en/news/i­spent­my­16th­birthday­alone­cell)
 
CAMPAIGN CODE NUMBERS:
Campaign Code: 6080
(For campaigns at University of Nebraska-Lincoln, City of Lincoln, LES, LPS, Lancaster County, SCC and private companies.)
State of Nebraska: 
ADDRESS/PHONE:
134 S. 13th St. #1010
Lincoln, NE 68508
402-476-8091
WEBSITE:
CONNECT WITH AGENCY: