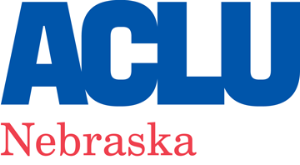 25-WORD DESCRIPTION:
For over 50 years in Nebraska, the ACLU has worked in courts, legislatures, and communities to protect the constitutional and individual rights of all people.
 
HOW WE USE YOUR CONTRIBUTIONS:
$50 helps pay for "Know Your Rights" brochures in six most commonly spoken languages in NE.
$100 helps pay for a public education event on racial justice, immigrants rights, women's rights, smart justice reforms, and other important issues.
$200 helps pay for staff review of possible civil rights and civil liberties litigation.

A STORY FROM OUR AGENCY:
During the historic 2020 protests, Elise Poole attended a peaceful protest in Lincoln to demand an end to police brutality against Black lives. Law enforcement met that protest with a militarized response. Poole was physically and emotionally traumatized when a projectile struck her and severed her nose from her face while she was providing first aid to injured protesters. In April of 2022, we successfully settled the case with the City of Lincoln in an agreement that provided Poole with monetary damages.
 
ADDRESS/PHONE:
134 S. 13th St. #1010
Lincoln, NE 68508
402-476-8091 x 106
WEBSITE:
CONNECT WITH AGENCY: