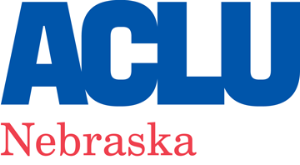 25-WORD DESCRIPTION:
For over 50 years in Nebraska, the ACLU has worked in courts, legislatures, and communities to protect the constitutional and individual rights of all people.
 
HOW WE USE YOUR CONTRIBUTIONS:
$50 helps pay for "Know Your Rights" brochures in six most commonly spoken languages in NE.
$100 helps pay for a public education event on racial justice, immigrants rights, women's rights, smart justice reforms and other important issues.
$200 helps pay for staff review of possible civil rights and civil liberties litigation.

A STORY FROM OUR AGENCY:
Every day we strive to push our state closer to living our motto of Equality Before the Law. This work changes our state for the better and leaves a lasting impact on our clients' lives. Look no further than a happy northeast Nebraska family. In 2020, Kelly and Maria expected to become legal parents of Yasmin, a child they have raised since birth. Imagine their shock when a county judge told them incorrectly that Nebraska state adoption law does not permit a "wife and wife" to adopt. Eventually, and with the help of the ACLU of Nebraska, the Nebraska Supreme Court heard their case. Nebraskans can take heart that the high court ruled unanimously in the couple's favor. Today Yasmin has a permanent, loving home with two devoted and nurturing parents. 
 
CAMPAIGN CODE NUMBERS:
Campaign Code: 6080
(For campaigns at University of Nebraska-Lincoln, City of Lincoln, LES, LPS, Lancaster County, SCC and private companies.)
State of Nebraska: 
ADDRESS/PHONE:
134 S. 13th St. #1010
Lincoln, NE 68508
402-476-8091
WEBSITE:
CONNECT WITH AGENCY: