Why Become a Worksite?
If you're like most businesses, there's more to your work than simply making a profit. We believe that at the end of the day, people are generous. Most businesses' real goal is helping other people solve a problem in their lives.
When you become known as a business that cares about being an important part of your community, people notice.
 
Why Should My Company Participate?
Giving donors freedom of choice in their contributions is of the utmost importance. Give Nebraska is comprised of 76 local agencies working to improve the quality of life in our community. With a donor-directed system, Give Nebraska ensures that contributions support member agencies as designated by donors, rather than by predetermined allocation levels.
Some businesses currently do not have a workplace giving campaign underway. Give Nebraska is happy to consult with your company for easy ways to incorporate workplace giving into your organization. For those who already have workplace campaigns, Give Nebraska adds more choices for your employees, letting them decide where to donate. Payroll deduction makes it convenient for both the employer and the donor. By offering a wide variety of nonprofits you empower your employees, increase their satisfaction and boost your campaign's success.
Increasingly, employees want to be able to choose where their gifts go and what organization(s) they will support; and your employees will be more satisfied with a program that gives them these options. Experience shows: you will see greater participation, satisfaction and overall contributions while still allowing your company to brand the campaign as your own.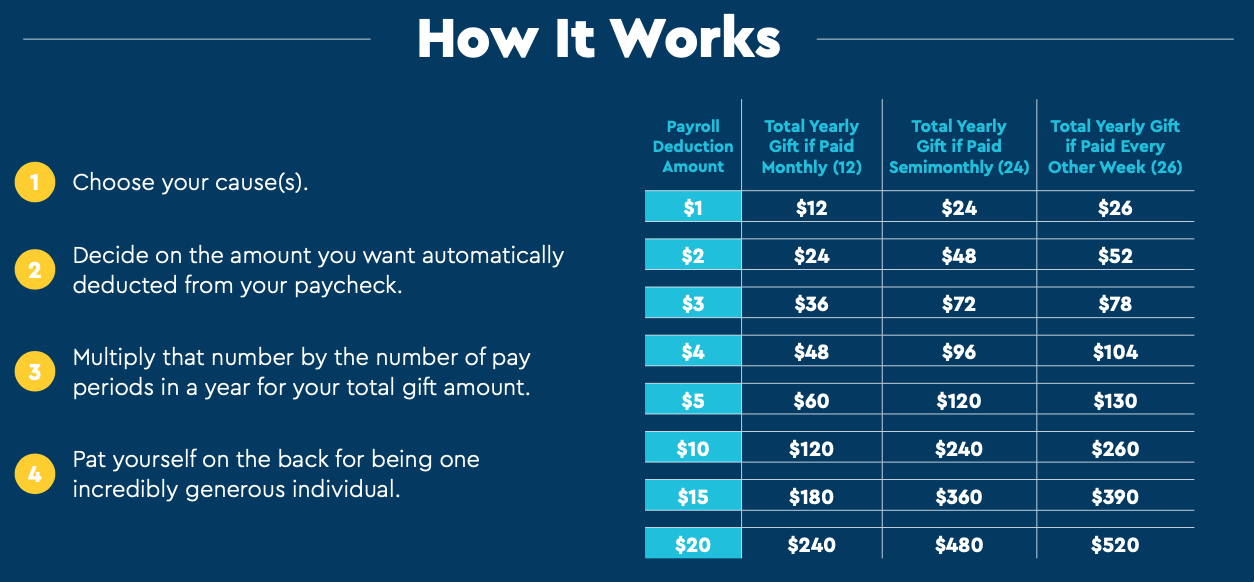 Why Does Workplace Giving Matter?
What is it that keeps most of us from giving to charitable causes that are important to us?
It isn't because we don't care. More often, it's just that philanthropy seems complicated: there are lots of choices, we aren't sure how to donate, or we just forget to get around to it.
Workplace giving solves all of these problems. Employees can donate to a cause that they care about every month, without having to spend time and energy writing check after check. Giving small amounts automatically keeps employees from feeling financially strained, and nonprofit organizations benefit from a consistent source of funding.

Make Your Employees Happier
Study after study has shown that having money isn't the biggest way to make employees happier. Instead, people want a sense of meaning, freedom and purpose in their work lives.
Workplace giving empowers donors by giving them a choice. Donor choice is important to us: a donor has a right to decide and understand exactly where their money goes.
When employees rally around a cause, it builds morale and creates stronger teams.

Strengthen Your Community and Customer Base
Customer studies indicate 79% of Americans would be likely to switch from one brand to another if the other brand is associated with a charitable cause.
The way people spend their money is a small vote for the things they care most about. If your business has a record of caring for the community your customers are part of, it shows.
Workplace giving is just another way to give back to the place that has made your business possible.

Want to Learn More? We would look forward to including your workplace in our annual campaign. Please contact us anytime to learn how our program can help your business make a difference.