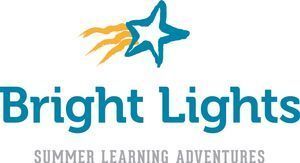 25-WORD DESCRIPTION:
Bright Lights, Inc. is a non-profit organization that offers half and full day hands-on summer learning camps to students K-8 Lincoln, Nebraska.

HOW WE USE YOUR CONTRIBUTIONS:
$135 sends a student to a full week of half-day camp where their true passions can be nurtured and ignited!

A STORY FROM OUR AGENCY:
Each summer, 1,500 students participate in Bright Lights Camps which focus specifically in inspiring students through hands-on learning. Many are inspired by their camp and it leads them to their career!
Emma, who participated in the Genetic Engineering camp as a middle schooler is now a PhD Candidate/Researcher at the University of Washington Genome Sciences Department.
Nathan, who participated in the Engineering camp as a 7th grader is now an electrical engineer!
Other students have found their advocations and continue to learn, create and lead as adults.
ADDRESS/PHONE:
5561 S 48th., Ste 220
Lincoln, NE 68516
402-420-1115
WEBSITE:
CONNECT WITH AGENCY: