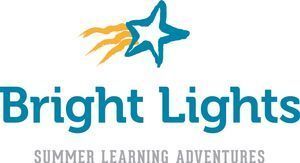 25-WORD DESCRIPTION:
Bright Lights is a nonprofit organization that takes learning beyond the classroom by providing youth with unique, motivating, hands-on learning opportunities each summer.

HOW WE USE YOUR CONTRIBUTIONS:
$.50 a week purchases materials for a camper for camps like Fit Kids in the Kitchen or Wet, Wild and Wacky Science. ($26)
$20 per month pays for robotics equipment to be used for hands-on learning during summer camps. ($240)
$33 per month pays for a Bright Lights Teacher to teach a camp for a week during the summer, reaching 20-100 students. ($396)
$100 pays for a nurse to be on site at camp for 1/2 day to meet the health needs of students.

A STORY FROM OUR AGENCY:
Leon started with Bright Lights as an elementary student. He loved trying out new camps each summer and as middle school approached, he was excited to go from camper to student assistant. He was inspired by watching the Bright Lights teachers follow their passions and create one-of-a-kind experiences for campers based on hands-on learning and igniting a spark. When Leon got to college, he was excited to pursue his interest in education while coming back to Bright Lights as a teacher! And now, Leon will have his first year as a camp administrator!
CAMPAIGN CODE NUMBERS:
Campaign Code: 6862
(For campaigns at University of Nebraska-Lincoln, City of Lincoln, LES, LPS, Lancaster County, SCC and private companies.)
State of Nebraska: 
ADDRESS/PHONE:
5561 S 48th., Ste 220
Lincoln, NE 68516
402-420-1115
WEBSITE:
CONNECT WITH AGENCY: