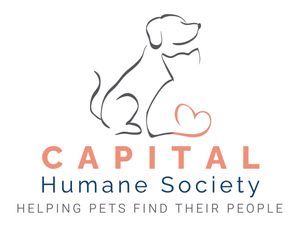 25-WORD DESCRIPTION:
Capital Humane Society serves and unites our community by providing resources and support for pet owners, caring for displaced animals, and connecting homeless pets with families through adoption.
HOW WE USE YOUR CONTRIBUTIONS:
$5 supports daily feeding at the shelter.
$15 provides enrichment toys for animals in our care.
$35 provides formula for a litter of abandoned kittens.
$100 helps prepare two animals for adoption. 
$250 provides foster care for a litter of puppies or kittens.

A STORY FROM OUR AGENCY:
In the last year Capital Humane Society has implemented countless programs to help keep pets with their people. The Pawsitive Impact Project was launched in May of 2022 and since then has helped 431 pets receive at-cost preventative veterinary care for income qualified families.
ADDRESS/PHONE:
2320 Park Boulevard
Lincoln, NE 68502
402-441-4488
WEBSITE:
CONNECT WITH AGENCY: