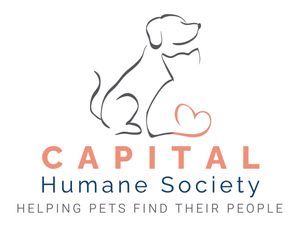 25-WORD DESCRIPTION:
Capital Humane Society serves the community by sheltering homeless pets, advocating for animal welfare, and educating the public about responsible pet care.
HOW WE USE YOUR CONTRIBUTIONS:
$5 supports daily feeding at the shelter.
$15 provides enrichment toys for animals in our care.
$35 provides formula for a litter of abandoned kittens.
$100 helps prepare two animals for adoption. 
$250 provides foster care for a litter of puppies or kittens.

A STORY FROM OUR AGENCY:
Late last year, Lincoln Animal Control seized a young puppy from a home here in Lincoln due to the physical condition of the puppy and the lack of care by his owner. 
The puppy, an approximately 7-monthold, Pit Bull, intact male, named Ace was extremely underweight at just 15 pounds. Upon arrival he was hypothermic, lethargic, and cachexic. Our veterinary team immediately jumped into action to address the hypothermia. Luckily by the next morning his temperature had returned to normal, and work began to return him to a proper weight and body condition. 
Diagnostics were performed and ultimately Ace was diagnosed with Addison's Disease. This disease creates an adrenal insufficiency, and the adrenal glands produce little to no cortisol. Ace was started on medication therapy for Addison's Disease and within a month had gained significant weight and was up to 36 pounds! 
We placed Ace into a foster home to continue to monitor his progress, as he will need to remain on medication therapy for the rest of his life to control his Addison's Disease. We are happy to share he was adopted by his foster! They re-named him Jett and report he has made himself right at home!
CAMPAIGN CODE NUMBERS:
Campaign Code: 6270
(For campaigns at University of Nebraska-Lincoln, City of Lincoln, LES, LPS, Lancaster County, SCC and private companies.)
Combined Federal Campaign: 69026
State of Nebraska: 
ADDRESS/PHONE:
2320 Park Boulevard
Lincoln, NE 68502
402-441-4488
WEBSITE:
CONNECT WITH AGENCY: