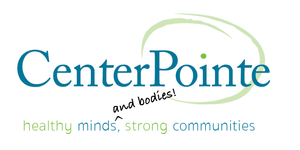 25-WORD DESCRIPTION:
CenterPointe provides help for people with mental health and substance use disorders find their path to health and well-being through nearly 40 program offerings.
 
HOW WE USE YOUR CONTRIBUTIONS:
$1 per week can provide 3 hours of life skills education to support recovery.  ($52)
$4 per week can provide an apartment starter kit for someone coming off the streets. ($208)
$7 per month can provide bus passes for a year for transportation to attend outpatient treatment. ($364)
$10 per week can provide intensive services for someone with severe mental illness. ($520)

A STORY FROM OUR AGENCY:
Sharon will pause on Thanksgiving Day to reflect on past decisions and give thanks for being in her third year of recovery from a life of drug abuse.
Thanks in large part to counseling and treatment at CenterPointe, the 49-year-old woman has a new lease on life. In her past is a history marred by an addiction to methamphetamine that eventually led to drug and forgery charges.
In 2006, she received a three-year sentence to the Nebraska Correctional Center for Women. She served the sentence and completed a probationary period on Feb. 14 of this year.
Sharon says she discovered a different pathway to life through the counseling assistance of Frieda and Melissa — counselors assigned to her case at CenterPointe — and through meetings of Alcoholics Anonymous and Narcotics Anonymous. She has also found spiritual guidance at the Cathedral of the Risen Christ and Christ Place Church.
"Today, though, I have help from CenterPointe that has taught me how to make the daily choice to not pick up. Most importantly, I have my higher power, Lord Wakonda. By the grace of God, there go I." Her list of reasons to be thankful will be longer than it's been in a while. She is grateful for being in her third year of recovery, the expiration of her probationary period and for her job.
CAMPAIGN CODE NUMBERS:
Campaign Code: 6305
(For campaigns at University of Nebraska-Lincoln, City of Lincoln, LES, LPS, Lancaster County, SCC and private companies.)
State of Nebraska: 
ADDRESS/PHONE:
2633 P Street
Lincoln, NE 68503
402-475-8717
Expanded services into Omaha
WEBSITE:
CONNECT WITH AGENCY: