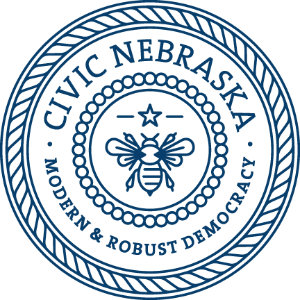 25-WORD DESCRIPTION:
Civic Nebraska creates a more modern and robust democracy for all Nebraskan.

HOW WE USE YOUR CONTRIBUTIONS:
$0.50 per week purchases provides postage for a middle school class to send letter to their elected officials. ($26)
$3 per week provides funds 1 local Civic Health Community Conversation and Asset Mapping Workshop. ($156)
$10 per month hosts a canvas of in person conversation with voters and local residents. ($120) 
$25 per month provides lunch for a class of students attending the Capitol Experience Day where they get to directly engage with all three branches of government. ($300)

A STORY FROM OUR AGENCY:
Civic Nebraska knows that when we cultivate youth leaders, support neighborhood civic health, and make the political processes which govern individuals' homes and lives more accessible, Nebraskans of all ages and backgrounds feel more invested in their community.
A testimony of recent success from the Capitol Experience Day is the story of Brooklyn Terrill. Brooklyn participated in the Capitol Experience Day in December of 2020, when she was a first-year English student at the University of Nebraska-Lincoln. During the Capitol Experience Day tour, the ENGL 254H class spoke with Sen. Adam Morfeld, Civic Nebraska's Executive Director and Founder. In 2021, Brooklyn reached out to Sen. Morfeld with a proposal for legislation: the Sexual Assault Good Samaritan Law. The idea for the proposed legislation came about when Brooklyn had a friend who did not report an assault after her attacker threatened that reporting would put her at risk of punishment for being under the influence at the time of the attack. Senator Morfeld, in his legislative capacity, introduced a bill to the Nebraska State Unicameral. During committee hearings and floor debate, Brooklyn organized with her peers and mentors to testify and talk to state senators on the necessity of this bill. Ultimately, her passion paid off, and the Sexual Assault Good Samaritan Law, was passed by the Nebraska State Unicameral and signed into law.
This is a testimony that the voice of Nebraska's Second House (the people of the State of Nebraska) belongs to the concerned citizen, no matter the age. This profound, meaningful change started with a collegiate visit to the Nebraska State Capitol through the Capitol Experience Day. This incredible story of impact underscores how modernizing civics education to thoroughly understand how to efface change through the three branches of government can empower young people to be the change they want to see in the world. Further, by investing in youth through civic health initiatives, a ripple effect of engagement is possible that does not stop at the Nebraska state-level. Not only does this story highlight the success of Brooklyn, but her peers who were engaged in the process as well. In addition, Brooklyn created statutory change that would protect the vulnerable for years to come with the passage of the Sexual Assault Good Samaritan Law. On a final note, Civic Nebraska will be honoring Brooklyn Terrill this year by awarding her the Young Civic Leader Award at this year's Strengthening Democracy Awards on June 9, 2022. Brooklyn was nominated by her ENGL 254H professor.
ADDRESS/PHONE:
530 S. 13th St, Suite 100
Lincoln, NE  68508
402-904-5191
WEBSITE:
CONNECT WITH AGENCY: