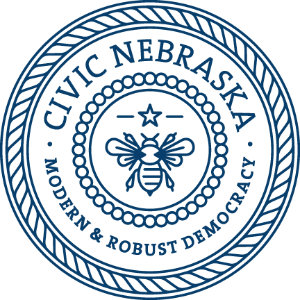 25-WORD DESCRIPTION:
Civic Nebraska builds a more modern and robust democracy for all Nebraskans.

HOW WE USE YOUR CONTRIBUTIONS:
$5 per month supports a week of a child to attend before and after school program at Civic Nebraska's Community Learning centers. ($60)
$10 per month supports a Non-Partisan Election Protection training to keep our elections secure and efficient. ($120)
$20 per month enables (1) Nebraska Civics Class to come to the Capitol and complete the Capitol Experience Day Program. ($240)
$50 per month supports a neighborhood redevelopment project in Collective Impact Lincoln's core neighborhoods Belmont, Clinton, Everett, Hartley, Near South, and University Place, ($600)

A STORY FROM OUR AGENCY:
Civic Nebraska works to create a democracy where citizens recognize their inherent power and exercise it. Our work is focused on communities and individuals that have been traditionally disenfranchised. We achieve this through non-partisan Get Out The Vote organizing, election protection, strengthening civic health through community development, and educating the next generation of youth civic leaders.
CAMPAIGN CODE NUMBERS:
Campaign Code: 6025
(For campaigns at University of Nebraska-Lincoln, City of Lincoln, LES, LPS, Lancaster County, SCC and private companies.)
State of Nebraska: 
ADDRESS/PHONE:
530 S. 13th St, Suite 100
Lincoln, NE  68508
402-904-5191
WEBSITE:
CONNECT WITH AGENCY: