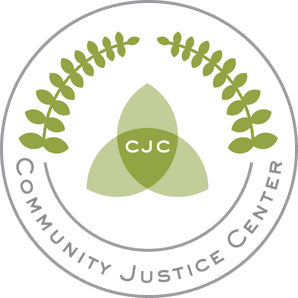 25-WORD DESCRIPTION:
A restorative justice organization providing programming in prisons, jails, probation centers, and Nebraska communities. We have served more than 15,000 justice-involved individuals.

HOW WE USE YOUR CONTRIBUTIONS:
$1 a week helps provide programming materials for participants and outreach materials for victims of harm. ($52)

$3 a week provides restorative circles of support to those impacted by harm. ($156)

$5 a week provides manuals for participants in correctional settings. ($260)

$25 purchases a reentry support materials for returning citizens.

$50 provides essential reentry items for returning citizens in their transition to our community.

$100 provides 2 hours of our restorative justice circle of support for those impacted by harm/crime in our community.

A STORY FROM OUR AGENCY:
A man that began a sentence in the Nebraska Department of Corrections in 2009, at the age of 19, first attended one of the Community Justice Center's-Restorative Justice Intervention/Emotional Hygiene classes in 2017. This young man had been in and out of the system throughout his youth and continued his destructive behaviors by running over the rights of others and spending considerable time in solitary confinement. During class, with the help of trained facilitators, he began to open up about his harm/crime, his past, and the many traumatic experiences he had been through. He learned about himself, emotions, decision making, who he harmed and how to take responsibility and repair his harm. He talked more with other residents of the facility who serve as peers for our program and began a path of change for himself supported by others. He became a CJC peer-training and provided support to other men serving sentences with him. Upon his release (2021) he received reentry support from CJC and was mentored by staff. Today he testifies on behalf of those still system impacted, is married, and raising a family. It is in the little moments where CJC can show we care, that no one is defined by their worst experience, and with some support in seeing there is a positive path forward if they are willing to do the work, that we can habilitate people and communities in profound ways.
ADDRESS/PHONE:
211 N. 14th Street, Ste. 314
Lincoln, NE 68508
402-277-8111
WEBSITE:
CONNECT WITH AGENCY: