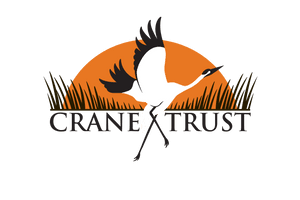 25-WORD DESCRIPTION:
Focused on preserving and restoring unique prairie habitat in the Central Platte River Valley for Sandhill Cranes, endangered Whooping Cranes, and other migratory birds.

HOW WE USE YOUR CONTRIBUTIONS:
$10 per month plants native prairie grasses. ($120)

$25 pays for an hour of learning with school groups. ($300)

$100 pays for trail maintenance at the Nature & Visitor Center.

$500 pays for scientific research during field studies.

A STORY FROM OUR AGENCY:
The story of the Crane Trust is a story of resiliency. For more than 40 years, the Crane Trust has worked to protect and restore native habitat along the Big Bend reach of the Central Platte River Valley. This essential conservation work protects and preserves critical habitat for the endangered whooping cranes, sandhill cranes, and countless other species sharing fragile river and prairie ecosystems. Without the efforts of the Crane Trust, these species would cease to call this place home.
By removing invasive species of trees and brush, wider channels of the river are maintained. Both Sandhill Cranes and Whooping Cranes need shallow areas of the river to roost each night during their annual spring migration. While feeding in the fields during the day, the cranes instinctively return to the river every night to roost in the river for safety.
This vital habitat has hosted as many as 97 endangered Whooping Cranes at one time. Whooping Cranes continue to show incremental increases in numbers after coming back from the brink of extinction with only 20 known birds left in the wild population in 1940. Today's wild migratory population is over 500.
Through educational programs and community outreach, the Crane Trust provides people from around the world the opportunity to experience the awe-inspiring annual migration of the Sandhill Cranes.
ADDRESS/PHONE:
6611 W Whooping Crane Drive
Wood River, NE 68883
308-382-1820
WEBSITE:
CONNECT WITH AGENCY: