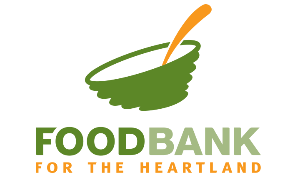 25-WORD DESCRIPTION:
Food Bank for the Heartland's mission is to eliminate hunger in the Heartland by providing consistent access to healthy food through community partnerships.

HOW WE USE YOUR CONTRIBUTIONS:
Every $1 donated, provides up to four meals for someone in need.
$164 sponsors a child in the Food Bank's BackPack program for the school year.
$300 provides 1,200 meals—supplying a family of four with enough food for more than three months.

A STORY FROM OUR AGENCY:
Every day, Food Bank for the Heartland distributes nutritious food to 544 Network Partners across 93 counties in Nebraska and western Iowa. Because of generous community support, neighbors across the Heartland can receive the help they need to overcome difficult situations. Neighbors like Butch in Red Oak, Iowa who told us, "Inflation has been really hard. I'm retired and retirement just doesn't cover it." Or Debbie—a Missouri Valley resident who recently shared—"What does it mean to me? It means that I won't go hungry for the night."
ADDRESS/PHONE:
10525 J Street
Omaha, NE 68127
402-331-1213
WEBSITE:
CONNECT WITH AGENCY: