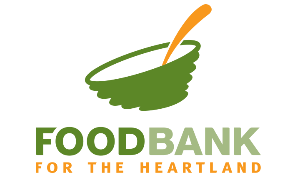 25-WORD DESCRIPTION:
Food Bank for the Heartland distributes nutritious food to nearly 600 network partners across 77 counties in Nebraska and 16 counties in western Iowa.

HOW WE USE YOUR CONTRIBUTIONS:
For every $1 you donate, you are helping provide up to 4 healthy meals to someone in need.
$164 supports weekend backpacks of food for an elementary school child for one full academic year.
$300 provides 1,200 meals—which will supply a family of four with enough food for more than three months.

A STORY FROM OUR AGENCY:
Every day, Food Bank staff, volunteers, donors, and network partners live out our mission to make a difference in the communities we serve—creating a healthier Heartland for children, families, seniors, and veterans. Because of generous community support, people like Joyce receive the help they need to overcome difficult situations. Joyce shared this message with us after visiting one of our mobile pantries. "I live in Long Pine, Nebraska, which is a very small town. I'm retired on a fixed income and my husband passed away from COVID-19 in December. Now, my social security has dropped to one-income. The food I received at the mobile pantry was so fresh and the people delivering it were so nice. It just makes you feel good all over to know that somebody cares. When strangers come to you and offer you help, even if it's just in food, it really means a lot. It felt good to know that somebody cares about our little community. God bless you all."
CAMPAIGN CODE NUMBERS:
Campaign Code: 6858
(For campaigns at University of Nebraska-Lincoln, City of Lincoln, LES, LPS, Lancaster County, SCC and private companies.)
Combined Federal Campaign: 66378
State of Nebraska: 
ADDRESS/PHONE:
10525 J Street
Omaha, NE 68127
402-331-1213
WEBSITE:
CONNECT WITH AGENCY: