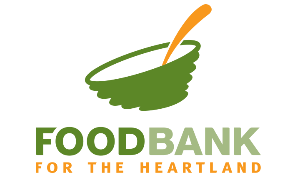 25-WORD DESCRIPTION:
Serving as a clearinghouse to distribute emergency food (fresh produce, dairy, shelf-stable, and protein) to partners in 93 counties in Nebraska and western Iowa.

HOW WE USE YOUR CONTRIBUTIONS:
$71.95 supports a community pack of 16 non-persihable food items like pasta, pasta sauce, rice, macaroni and cheese, canned fruits and vegetables, and canned chicken or tuna.
$77.50 feeds one family for 7-10 days.
$164 supports weekend backpacks of food for an elementary school child for one academic year.

A STORY FROM OUR AGENCY:
Thousands of Heartland families like Amber's have found themselves in the unexpected position of needing food assistance due to the pandemic. Food Bank for the Heartland and our network of partners across Nebraska and western Iowa are working relentlessly to provide them with the meals they need.
On a Saturday morning, Amber sits in her car amid a row of other vehicles in the parking lot. All of the families there are waiting for the Food Bank's drive-up mobile pantry to begin. Her husband lost his job of 10 years due to the pandemic. He eventually found another one, but his earnings are 50% less. After paying bills, the family has $60 each month to spend on food, and that is not enough.
Amber has been visiting the Food Bank's mobile pantry to feed her two young children. She said the food she receives is a blessing. Her children especially appreciate the fresh produce. "We are struggling," Amber said with tears in her eyes, "but we are going to be okay."
Dedicated volunteers wheel out a shopping cart with a bag of fresh apples, carrots, a frozen turkey, and a community pack of pasta, tomato sauce, rice, macaroni and cheese, and other non-perishable staple items. They load the food directly into the trunk of Amber's car and she is so very grateful.
CAMPAIGN CODE NUMBERS:
Campaign Code: 6858
(For campaigns at University of Nebraska-Lincoln, City of Lincoln, LES, LPS, Lancaster County, SCC and private companies.)
Combined Federal Campaign: 66378
State of Nebraska: 
ADDRESS/PHONE:
10525 J Street
Omaha, NE 68127
402-331-1213
WEBSITE:
CONNECT WITH AGENCY: