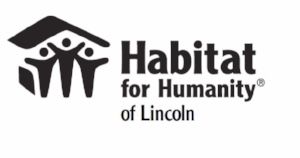 25-WORD DESCRIPTION:
Habitat Lincoln brings people together to build homes, communities, and hope. Alongside volunteers, and supporters, homeowners achieve strength, stability, independence to build a better life.
HOW WE USE YOUR CONTRIBUTIONS:
$50 purchases nails and other vital materials used in building and repairing affordable homes.
$10 per month purchases a front door for a house. ($120)
$20 per month purchases a pack of shingles for a new roof. ($240)
$50 per month provides paint for one house. ($600)
$100 per month provides insulation for a house. ($1,200)

A STORY FROM OUR AGENCY:
Blanca's parents immigrated to the United States from Mexico when she was a little girl. After moving around for several years, the family found their forever home here in Nebraska. Blanca knew this was the perfect place to raise her own family.
Blanca is the epitome of strength. When she applied for a Habitat home, she wanted to build something strong to show her four children that anything is possible with a little push. The family has experienced setbacks and tragedy, but through it all Blanca is able to rely on her inner strength, her siblings, and the love of her children to set a goal and achieve it.
Blanca is looking forward to having a space to call her own. She already has plans for a garden and is anticipating planting a mix of vegetables to feed the family as well as beautiful flowers in memory of her partner who always wished a home for his family. The kids are excited that there is a playground a few blocks away and can't wait to meet the other kids in the neighborhood. Most of all, the family is looking forward to putting down roots, growing closer as a family and creating beautiful memories together.
ADDRESS/PHONE:
4615 Orchard St
Lincoln, NE 68503
402-477-9184
WEBSITE:
CONNECT WITH AGENCY: