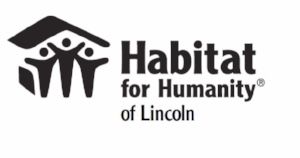 25-WORD DESCRIPTION:
Habitat Lincoln brings people together to build homes, communities, and hope. Alongside volunteers, and supporters, homeowners achieve strength, stability, independence to build a better life.
HOW WE USE YOUR CONTRIBUTIONS:
$1 per week purchases nails and other vital materials used in building and repairing affordable homes. ($52)
$3 per week provides a the light bulbs for a house. ($156)
$5 per week provides a pack of shingles. ($260)

A STORY FROM OUR AGENCY:
Hope for their future. That's what David wants the most for his family when they move into their new Habitat Home.
David works as a machine operator, and Rachael has a job as a food processor. With four kids and another on the way, they knew their two-bedroom apartment would no longer serve their needs. When it would rain, the carpet would get wet and moldy, and there were issues with the plumbing. Rent continued to go up and became completely unaffordable for the family.
With their new home, they will have space to grow. The five children will be able to play in the backyard on beautiful days and have an area to study in the basement. All of the extra room will allow David and Rachael some quality time to spend with one another.
The family is dedicated to giving back to the community through their church and enjoys playing and watching sports together. The entire family can't wait for their new kitchen and the memories that they will build over years of meals together as a family.
CAMPAIGN CODE NUMBERS:
Campaign Code: 6040
(For campaigns at University of Nebraska-Lincoln, City of Lincoln, LES, LPS, Lancaster County, SCC and private companies.)
State of Nebraska: 
ADDRESS/PHONE:
4615 Orchard St
Lincoln, NE 68503
402-477-9184
WEBSITE:
CONNECT WITH AGENCY: