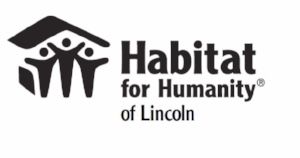 25-WORD DESCRIPTION:
Habitat Lincoln brings people together to build homes, communities, and hope. Alongside volunteers, and supporters, homeowners achieve strength, stability, independence to build a better life.
HOW WE USE YOUR CONTRIBUTIONS:
$1 per week purchases nails and other vital materials used in building and repairing affordable homes. ($52)
$3 per week provides a the light bulbs for a house. ($156)
$5 per week provides a pack of shingles. ($260)

A STORY FROM OUR AGENCY:
Ezana, Addis, and their two children lived in a tiny one-bedroom apartment the size of an efficiency apartment on a very busy street. The family shares the one-bedroom which has become overcrowded as the kids have grown. The children needed their own space to grow and have a quiet place to study.
The kids love playing outdoors and riding bikes but there was no outside play area or green space. Due to security concerns, the family stored their bikes inside making the apartment even more crowded.
Their new home has a nice big, back yard and is close to a bike trail for lots of time spent outdoors! Plus, with a garage they don't have to worry about storing their bikes inside the house.
After closing on their mortgage, Ezana asked, "Is it really mine?" Thanks to your support, Ezana and Addis have achieved their dream of a safe, decent, affordable home. A place to call there own. A place to call home.
CAMPAIGN CODE NUMBERS:
Campaign Code: 6040
(For campaigns at University of Nebraska-Lincoln, City of Lincoln, LES, LPS, Lancaster County, SCC and private companies.)
State of Nebraska: 
ADDRESS/PHONE:
4615 Orchard St
Lincoln, NE 68503
402-477-9184
WEBSITE:
CONNECT WITH AGENCY: