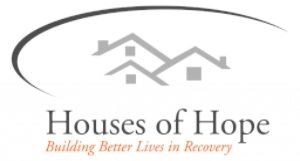 25-WORD DESCRIPTION:
"Building Better Lives in Recovery" - helping individuals whose lives have been impacted by substance use and mental health integrate back into the community. 
HOW WE USE YOUR CONTRIBUTIONS:
$8 provides a bus pass for a client without their own transportation.
$10 provides a haircut for a client.
$20 defrays the cost of a medication or doctor visit.
$30 provides sheets, blanket, pillow, towels, and toiletries for a new client.
$50 provides 3 meals per day for a week.
$100 will help defray utility costs at a residential facility.
$150 covers an apartment deposit for a client transition back to the community.

A STORY FROM OUR AGENCY:
Andrew struggled with substance use and depression for over 13 years. He was referred to Houses of Hope to continue substance use and mental health treatment, and for support to help develop skills and discipline to transition back into the community. As those issues began to stabilize, he was better equipped to sort through physical and emotional impact related to his history of substance use.
Andrew worked in individual, group and family counseling sessions to improve interactions with others, to learn about his addiction, and develop healthy ways to maintain emotional and physical health. Andrew built a strong foundation of recovery and obtained employment through a 'temp agency' that turned into a full-time position with healthcare benefits. Access to medical care and prescription coverage eased worries about dealing with medication and health needs.
Andrew was able to reestablish connections with his family. Those relationships improved over the course of treatment and family members became part of his support system.
By the time Andrew was completing treatment he had been employed for over 8 months and saved for a deposit on his own apartment. He had built a strong sober support group in the community and had been sober over 10 months. With those supports and accomplishments, Andrew was optimistic about his future and potential for continued growth in recovery.
CAMPAIGN CODE NUMBERS:
Campaign Code: 6070
(For campaigns at University of Nebraska-Lincoln, City of Lincoln, LES, LPS, Lancaster County, SCC and private companies.)
State of Nebraska: 
ADDRESS/PHONE:
1124 North Cotner Blvd
Lincoln, NE  68505
402-435-3165
WEBSITE:
CONNECT WITH AGENCY: