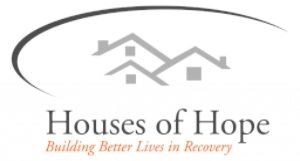 25-WORD DESCRIPTION:
"Building Better Lives in Recovery"-helping individuals whose lives have been impacted by substance use and mental health integrate back into the community.
HOW WE USE YOUR CONTRIBUTIONS:
$8 provides a bus pass for a client without their own transportation.
$10 provides a haircut for a client.
$20 defrays the cost of a medication or doctor visit.
$30 provides sheets, blanket, pillow, towels, and toiletries for a new client.
$50 provides 3 meals per day for a week.
$100 will help defray utility costs at a residential facility.
$150 covers an apartment deposit for a client transition back to the community.

A STORY FROM OUR AGENCY:
Prior to treatment, an individual we served was homeless, unemployed, and had little to no relationship with his children with the likelihood that he would lose his parental rights. His motivation to get sober was minimal due to feeling hopeless about his situation. After entering treatment and then transitioning to Houses of Hope Halfway House, he was given an opportunity to fight for himself and had hope again. During his time at Houses of Hope, he was hired on full-time with a company, had obtained insurance, improved his physical health, redeemed his driving privileges, obtained a car, paid monthly child-support, and was able to begin seeing his children again. After completing treatment, he was able to successfully transition to a 3/4 -way house, maintained what he built at Houses of Hope, and continue to build his relationship with his children.
CAMPAIGN CODE NUMBERS:
Campaign Code: 6070
(For campaigns at University of Nebraska-Lincoln, City of Lincoln, LES, LPS, Lancaster County, SCC and private companies.)
State of Nebraska: 
ADDRESS/PHONE:
1124 North Cotner Blvd
Lincoln, NE  68505
402-435-3165
WEBSITE:
CONNECT WITH AGENCY: