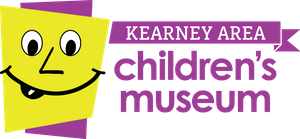 25-WORD DESCRIPTION:
Kearney Area Children's Museum inspires play, exploration, and discovery through interactive experiences by engaging children and families in innovative exhibits, special events, and educational programs.

HOW WE USE YOUR CONTRIBUTIONS:
$1.75 per week covers an annual family children's museum membership. ($90)
$35 a month covers a No School Camp for a child. ($420)
$350 covers a night of free admission from 4-8:00 pm for all families to be able to experience the children's museum.

A STORY FROM OUR AGENCY:
A child started coming to the museum camps very timid and quiet, especially because he had a cleft pallet and didn't speak like the other kids. Over the last few years, this child has blossomed and flourished in our programs and has made many new friends. The mother is "in trouble" if she doesn't sign him up for all of our offerings. He enjoys the kids, activities, curriculum, and teachers and has even increased his speech capabilities and is excelling in school.
ADDRESS/PHONE:
5827 4th Ave
Kearney, NE 68845
308-698-2228
WEBSITE:
CONNECT WITH AGENCY: