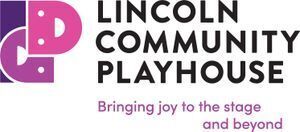 25-WORD DESCRIPTION:
Lincoln Community Playhouse positively transforms the lives of individuals and profoundly changes our community by providing the finest quality theatre experience in both process and production.
 
HOW WE USE YOUR CONTRIBUTIONS:
$10 a month buys scripts for a play. ($120)
$25 a month give a scholarship to a student in our classes. ($300)

A STORY FROM OUR AGENCY:
Our Penguin Project which is an annual production with all the roles played by children with special needs partnered with peer mentors has been a profound experience for many participants. One student who has Autism reduced his delayed response time form 45 seconds to 0 seconds. Students who come in being non-verbal start to talk. Peer mentors have a significant rise in self esteem working in this program In our senior theatre troupe, one actor said being in the play was the first time they felt they could go on after the death of their spouse because it was the first time they felt joy.
CAMPAIGN CODE NUMBERS:
Campaign Code: 6295
(For campaigns at University of Nebraska-Lincoln, City of Lincoln, LES, LPS, Lancaster County, SCC and private companies.)
State of Nebraska: 
ADDRESS/PHONE:
2500 South 56th Street
P.O. Box 6426
Lincoln, NE 68506 
402-489-7529
WEBSITE:
CONNECT WITH AGENCY: