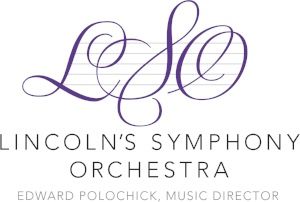 25-WORD DESCRIPTION:
Lincoln's Symphony Orchestra presents inspiring experiences that welcome all members of our community to discover and cultivate a profound, personal connection with live orchestral music.

HOW WE USE YOUR CONTRIBUTIONS:
$8 per month helps subsidize free tickets for the veteran community, through VetTix.org. ($96)
$25 per month provides LSO Guest Artist performances in schools and community sites free of charge. ($300)
$50 covers the cost of one underserved family to attend our Family Concerts.

A STORY FROM OUR AGENCY:
As we made preparations for our 2020-21 season, the health and safety of our musicians and audience members was of the highest priority. During this season when we are only able to fit a small percentage of our orchestra onstage due to the constraints of physical distancing, LSO has made the commitment to continue to pay every musician their full salary, even though they can't all fit onstage. Below are comments from two musicians about how much this means to them:
"LSO's commitment to and support of our family of musicians has been a cornerstone of the organization. Nothing shows this better than the incredible step that LSO has taken in paying all the musicians this year. It is such a beautiful thing - it brings tears to my eyes to think of what this means for us all."
"This isn't only about compensation; it sends us a message that our community values the arts and values us and wants to see us get through this pandemic. It's been hard on us not playing together; it chips away at the essence of who we are. And when this pandemic is over, we will be bursting with joy to get on that stage and share our gifts with you."
CAMPAIGN CODE NUMBERS:
Campaign Code: 6849
(For campaigns at University of Nebraska-Lincoln, City of Lincoln, LES, LPS, Lancaster County, SCC and private companies.)
State of Nebraska: 
ADDRESS/PHONE:
233 S 13th St, Ste 1702
Lincoln, NE 68508
402-476-2211
WEBSITE:
CONNECT WITH AGENCY: