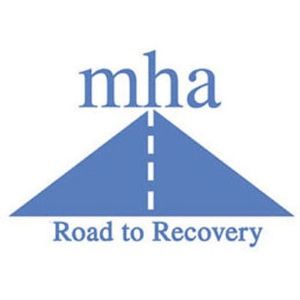 25-WORD DESCRIPTION:
Established in 2001, MHA-NE is a nonprofit, peer operated, and participant-driven organization dedicated to serving and providing alternative programs to those who live with mental health and/or substance use and addiction issues.
 
HOW WE USE YOUR CONTRIBUTIONS:
$5 buys toilet paper for a participant.
$8 buys bus transportation for a day.
$17 buys a WRAP guide/workbook for an 8 week class.
$100 funds an hour session of MHA's Wellness Recovery Action Planning.
$150 buys clothing/shoes/essentials for a participant for their first ever real job.
 
A STORY FROM OUR AGENCY:
Malachi Martinez & Michael Lee
Malachi, originally from Grand Island, found himself caught up in a life of crime and drugs. In 2018, Malachi was found guilty for possession of a firearm and sentenced to the mandatory minimum of three years. Rather than allowing prison to push him further down a path of negativity, Malachi decided to use his time to better himself. He had ideas of getting out, relocating to Lincoln, and learning how to flip houses. Malachi passed his time quietly in prison, exercising, drawing and looking towards the day he would be released.
Michael had a rough patch from ages 21-24, stuck in a vicious cycle of self-pity after losing both his Mom and Grandmother. Michael would receive a DUI, serve his time, and be released only to continue the same path of self-destruction. For Michael, this became a snowball effect; continuously rolling downward. In August of 2018, the court was fed up with always seeing Michael for the same reasons, and Michael was tired as well. In 2019, Michael was sentenced to three years. Things were different for Michael this time, and he asked God to help him push through it. Michael's wife supported him through his sentence, which gave him the ability to stay connected to the outside world. Michael knew it was time to make a change, and did everything he could to learn and grow; studying taxes and reading books on how he could start his own business.
Michael and Malachi met at the Nebraska State Penitentiary in the Residencial Treatment Center program. Michael and Malachi shared in the dream on getting out and doing something different. Michael shared his knowledge with Malachi on the things he had studied, and the two passed the time talking about their ideas.
Upon completion of their sentences, and much to their surprise, both Malachi and Michael were accepted to the Honu House, where they reunited in a Recovery based program. Malachi used his time at Honu to save money, and to set himself up for a positive transition into his own place. He worked full time, and continued to make time for exercise and drawing. Michael originally planned to move in directly with his wife after being released, but ran into barriers with finding a place to call home because of his criminal background. Michael says that Honu was his 'stepping stone' and allowed him to transition without needing to depend on anyone. Both Malachi and Michael ended up working together at a local plant in a welding job, and would fill their evenings and weekends with side jobs as subcontractors.
In July, on a week long break from their day job, they decided it was time for a change, and soon Michael registered his business, L&S All Out Contracting. Today, they work full time (and then some) building decks, installing drywall, doing cabinetry, flooring, and other jobs. Both Malachi and Michael love working together, and are continuously finding ways to grow and learn and strengthen their partnership. Michael is living the life he always dreamed of with his wife, and 2 kids. They went from punching the time clock to having business cards, a social media presence, being registered with the BBB, and having more jobs than they have time for. Now they pay themselves to do something they love. The sacrifice has finally paid off.
CAMPAIGN CODE NUMBERS:
Campaign Code: 6066
(For campaigns at University of Nebraska-Lincoln, City of Lincoln, LES, LPS, Lancaster County, SCC and private companies.)
State of Nebraska: 
ADDRESS/PHONE:
1645 N Street
Lincoln, NE  68508
402-441-4371
WEBSITE:
CONNECT WITH AGENCY: