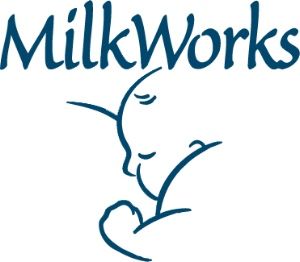 25-WORD DESCRIPTION:
MilkWorks is a comprehensive breastfeeding center with an experienced staff, dedicated to helping families breastfeed their babies, in-person and virtually.
HOW WE USE YOUR CONTRIBUTIONS:
$25 allows parents-to-be the chance to attend an All About Breastfeeding class.

$40 covers a bra-fitting and nursing bra for a new mom in need.

$80 provides 1 backpack and breastfeeding supplies for low income families.

$100 supports knowledgeable staff at our free baby weigh station and free weekly virtual support groups.

$150 covers a month of free shipping of breast pumps for families that cannot commute to MilkWorks to get their breast pump.

A STORY FROM OUR AGENCY:
"I am forever grateful to the team at MilkWorks that helped me and my child. My Lactation Consultant was so patience and kind and did everything she could to make sure that we had a successful breastfeeding experience. Even when things weren't going well, she supported me and made sure I knew that I wasn't alone. Every time I went to Milkworks it made me feel like my breastfeeding journey wasn't as daunting as I thought. Their support groups with other mothers got me through those first couple months of feeling really isolated with a newborn at home (especially during the pandemic!). I will always be grateful for the help MilkWorks provided me and I recommend them to anyone having a baby!" Luna B.
CAMPAIGN CODE NUMBERS:
Campaign Code: 6065
(For campaigns at University of Nebraska-Lincoln, City of Lincoln, LES, LPS, Lancaster County, SCC and private companies.)
State of Nebraska: 
ADDRESS/PHONE:
5930 South 58th Street, 
Suite W 
Lincoln, NE  68516
402-423-6402
WEBSITE:
CONNECT WITH AGENCY: