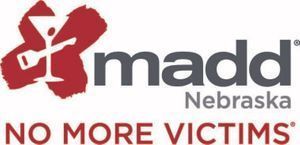 25-WORD DESCRIPTION:
MADD Nebraska works to eliminate drunk driving, fight drugged driving, support victims of these crimes, and prevent underage drinking through statewide outreach and education.
 
HOW WE USE YOUR CONTRIBUTIONS:
$25 pays for 50 students to have Power of Youth Handbooks.
$100 pays for a community to have red ribbons for an awareness campaign.
$50 pays for an advocate to travel to court to support a victim of impaired driving.

A STORY FROM OUR AGENCY:
Long after the crash, survivors, family, and friends continue to feel the impact. MADD Victim Services is here to provide you with emotional support but also assistance in a variety of ways after a drunk or drugged driving crash, all at no cost to victims and survivors.
No other organization does the work MADD Nebraska does. When impaired driving victims think no one could ever understand their pain, we do. We have sat next to families in hospital rooms and courtrooms. We are here to comfort when it is needed and fought like a mother when it is time. So many families have picked up the phone and called MADD when they felt all hope was lost and we were here. To listen. To support. And to build hope again with a network of others who have been there.
Who is impacted by impaired driving? All of us. Because it is taking lives in our community every year. Because it does not discriminate, anyone on the roads at any time could be a victim. Any one of us could have our lives changed forever in a moment. This is why MADD Nebraska fights every day for a future with No More Victims alongside so many families who understand the true meaning of the fight.
 
ADDRESS/PHONE:
PO Box 5675
Lincoln, NE 68505
402-434-5330 
WEBSITE:
CONNECT WITH AGENCY: