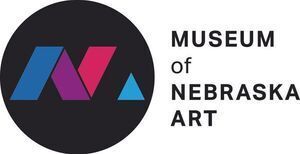 25-WORD DESCRIPTION:
The Museum of Nebraska Art (MONA) celebrates Nebraska's rich artistic history by collecting, preserving, researching, exhibiting, and interpreting art created by Nebraska artists or reflecting Nebraska history and culture.
HOW WE USE YOUR CONTRIBUTIONS:
Funds help to keep the museum free to all visitors.

A STORY FROM OUR AGENCY:
MONA's docents guide thousands of students annually through the galleries and relate many heartwarming stories about engagement with students. This is one such story.
The boy's teacher advised MONA's staff that the boy would be bringing his iPad for the docent tour as he may need to take a break from the group to find a space of his own. Being autistic and legally blind, the boy was known to thrash his arms and body around in response to situations.
Before each class tour, a docent provides a brief demonstration of "The Museum Walk" - - putting your arms behind your back and clasping your hands together. Such was the case with the boy's class of 4th graders and the paraprofessional helped show him "The Walk." As the docent showed the students large Whooping and Sandhill Crane photographs by "National Geographic" photographer Joel Sartore, the boy became more and more attentive. He asked if he could take a close-up look, as he really couldn't see them from a few feet back. The paraprofessional was hesitant, knowing the propensity of the boy to unpredictably thrash around. She did not want him to accidentally damage the artwork.
The docent and paraprofessional reminded him of "The Museum Walk" as he approached a photograph. He perfectly executed it and thoroughly enjoyed the view. Thus is the power of art to captivate and transcend. What a great day at MONA!
ADDRESS/PHONE:
2401 Central Avenue
Kearney, NE 68847
308-865-8559
WEBSITE:
CONNECT WITH AGENCY: