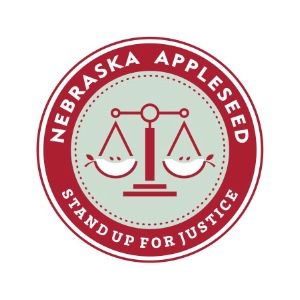 25-WORD DESCRIPTION:
We fight for justice and opportunity for all Nebraskans across four program areas: child welfare, health care access, economic justice, and immigrants & communities.
 
HOW WE USE YOUR CONTRIBUTIONS:
$36 prints 500 postcards for advocates to sign and deliver to lawmakers.
$72 prints 1,000 Community Assistance Line bookmarks.
$120 organizes a "Know your Rights" training for Nebraska's immigrant communities.
$264 sends staff to Get Out The Vote in rural Nebraska communities.
$504 sends Nebraska Dreamers to Washington D.C. to meet with our Congressional delegation.

A STORY FROM OUR AGENCY:
Maria had been sick and working for years, often working two jobs to cover her medical expenses. Then, a medical emergency wrecked her life. She was uninsured and fell into the Medicaid coverage gap—earning too little to qualify for insurance, but unable to access Medicaid. The vital health care and medication she needed was out of reach.
Yet in the midst of her own struggle, she found drive and purpose in the fight for Medicaid expansion. She fought alongside Appleseed to make it a reality for herself and the 90,000 Nebraskans without healthcare.
With her warmth and spirited knowledge of the issue, she bravely shared her story and let friends, neighbors, and people all across Nebraska know that they are not alone.
She worked with Appleseed organizers to organize monthly meetings of committed health care advocates to channel their voices directly to those in power. She worked with Appleseed policy specialists to bring other people without health coverage to legislative hearings, lawmaker's offices, and rallies.
Maria spent time in and out of the hospital, yet her tireless advocacy never stopped. She participated in a lobby day visit with Appleseed to bring her story to lawmakers in Washington, DC. And Maria was a key advocate in ensuring Medicaid expansion passed on the November 2018 ballot, showing Nebraskans fighting for justice are never alone.
 
CAMPAIGN CODE NUMBERS:
Campaign Code: 6255
(For campaigns at University of Nebraska-Lincoln, City of Lincoln, LES, LPS, Lancaster County, SCC and private companies.)
State of Nebraska: 
ADDRESS/PHONE:
PO Box 83613
Lincoln, NE 68501-3613
402-438-8853
WEBSITE:
CONNECT WITH AGENCY: