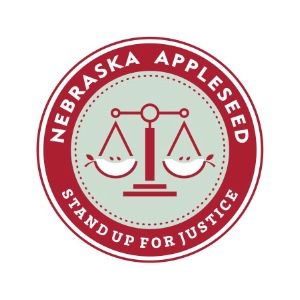 25-WORD DESCRIPTION:
We fight for justice and opportunity for all Nebraskans across four program areas: child welfare, health care access, economic justice, and immigrants & communities.
 
HOW WE USE YOUR CONTRIBUTIONS:
$36 prints 500 postcards for advocates to sign and deliver to lawmakers.
$72 prints 1,000 Community Assistance Line bookmarks.
$120 organizes a "Know your Rights" training for Nebraska's immigrant communities.
$264 sends staff to Get Out The Vote in rural Nebraska communities.
$504 sends Nebraska Dreamers to Washington D.C. to meet with our Congressional delegation.

A STORY FROM OUR AGENCY:
In November 2022, Nebraska voters approved Initiative 433 with 58% support. The initiative will enact annual $1.50 per hour increases beginning in January 2023 until it reaches $15 per hour in 2026, after which it will be adjusted annually to account for increases to the cost of living. This will raise wages for 150,000 workers statewide, help close the gender pay gap (60% of Nebraskans who will benefit are women) and racial pay gap (32% of Nebraskans who will benefit are people of color), and reduce child poverty. It puts real money in the hands of working Nebraskans to ensure people have the resources they need to make ends meet and thrive.
It took more than two years of coalition building, policy development, petition signature collection, and grassroots organizing. Appleseed helped bring together and facilitate the Raise the Wage Nebraska coalition composed of 25 nonprofit organizations and labor unions working together to raise the wage.
The coalition worked together to collect petition signatures in concert with a signature collection firm. Together, the coalition gathered 160,000+ signatures (85,000 valid signatures were needed) and qualified 44 counties (38 were needed) to place the petition on the November 2022 ballot. Throughout the campaign, Appleseed organizers worked with more than a dozen directly affected worker-leaders paid to gather signatures, share their stories through the media, testify at public hearings, and canvass for the initiative. We also helped create Nebraska Business for a Fair Minimum Wage, a group of 300+ Nebraska businesses that signed on to advocate for the initiative at public hearings and in the press.
 
ADDRESS/PHONE:
PO Box 83613
Lincoln, NE 68501-3613
402-438-8853
WEBSITE:
CONNECT WITH AGENCY: