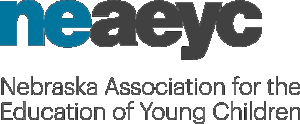 25-WORD DESCRIPTION:
Nebraska AEYC provides opportunities that promote excellence in early childhood for Nebraska's educators, children, and families through education, advocacy, and leadership.
 
HOW WE USE YOUR CONTRIBUTiONS: 
$27 provides recognition and appreciation materials to exceptional leaders of the early childhood community.
$70 provides 200 promotional pens which are distributed to child care providers during professional development opportunities.
$250 funds a "mini grant" provided to our chapters to support community-based activities during the annual Week of the Young Child.

A STORY FROM OUR AGENCY: 
S.W. never imagined being a family childcare provider. Even as a small child, she knew she wanted to be a teacher, but she always believed she would be an art teacher, not an early childhood educator. Her aunt, who she idolized, had her doctorate in education and was a principal at a local school. S.W. started college with the intention of being like her aunt, but life got in the way, and she settled for an Associate Degree in Accounting. However, she promised herself that someday she would get her bachelor's degree. She began operating a family childcare business to provide for her family and believed that after a year she would find a job in accounting and go back to college part time. What she didn't know was she was going to find her life's passion. S.W. had been operating her family childcare business for 20 years but ached to have her bachelor's degree and teaching certificate. She heard about T.E.A.C.H Early Childhood® NEBRASKA and, after receiving the scholarship, enrolled in the Early Childhood Education Inclusive degree program at UNK and graduated in 2021 with her bachelor's degree in Early Childhood Education. She is now using Child Care WAGE$® NEBRASKA salary supplements to get her master's degree and doctorate in early childhood education.
ADDRESS/PHONE:
650 J Street, Suite 23
Lincoln, NE 68508
402-476-2089
WEBSITE:
CONNECT WITH AGENCY: