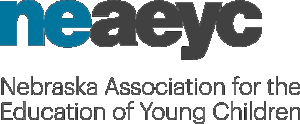 25-WORD DESCRIPTION:
Nebraska AEYC administers projects and services to strengthen and support the early childhood profession, improving the quality of care for young children and their families.
HOW WE USE YOUR CONTRIBUTiONS: 
$27 provides recognition and appreciation materials to exceptional leaders of the early childhood community.
$70 provides 200 promotional pens which are distributed to child care providers during professional development opportunities.
$250 funds a "mini grant" provided to our chapters to support community-based activities during the annual Week of the Young Child.

A STORY FROM OUR AGENCY: 
T.E.A.C.H. Early Childhood(r) NEBRASKA provides scholarships to early childhood educators seeking degrees in Early Childhood Education. A current T.E.A.C.H. student has this to say about the program. "T.E.A.C.H. allowed me to pursue the degree I wanted with so much extra help and support. I was able to get my associate degree without having to worry about tuition, books, and having enough time to do homework or complete my practicums. I started working toward my bachelor's degree and with the help of the T.E.A.C.H. program, I was able to make it through student teaching during the pandemic with the living stipend they offer to those who are student teaching. I do not think I would have reached these educational goals without the T.E.A.C.H. program and I am always telling others who are in school to look into it because of how much it helped me through college! I am now working towards my Master's Degree in Early Childhood Curriculum and Instruction! I want to give a huge thank you to everyone involved in T.E.A.C.H. for making my goals possible, and a big thank you to my T.E.A.C.H. counselor for being with me every step of the way! 
CAMPAIGN CODE NUMBERS:
Campaign Code: 6765
(For campaigns at University of Nebraska-Lincoln, City of Lincoln, LES, LPS, Lancaster County, SCC and private companies.)
State of Nebraska: 
ADDRESS/PHONE:
650 J Street, Suite 23
Lincoln, NE 68508
402-476-2089
WEBSITE:
CONNECT WITH AGENCY: