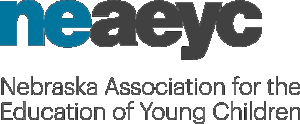 25-WORD DESCRIPTION:
Nebraska AEYC administers projects and services to strengthen and support the early childhood profession, improving the quality of care for young children and their families.
 
HOW WE USE YOUR CONTRIBUTiONS: 
$27 provides recognition and appreciation materials to exceptional leaders of the early childhood community.
$70 provides 200 promotional pens which are distributed to child care providers during professional development opportunities.
$250 funds a "mini grant" provided to our chapters to support community-based activities during the annual Week of the Young Child.

A STORY FROM OUR AGENCY: 
A testimonial from a former T.E.A.C.H. Early Childhood(r) Nebraska recipient: In 2016, I graduated with my associate degree in early childhood education from Metro Community College in Omaha, Nebraska. I not only had a life-changing degree under my belt, but a ton of student debt (over $20,000). I thought this was the end of the education path for me because I am a full-time employee at a Head Start center as well as a mother of two children, one who has special needs. I did not believe that I had the time or especially the financial ability to go any further. The textbooks alone would not have been feasible, much less tuition and other related expenses.
A good friend and co-worker enrolled in the T.E.A.C.H. program encouraged me to look into it. I did, and I can say in all honesty, it was one of the smartest decisions that I have ever made. By enrolling in the T.E.A.C.H. program, I was able to conquer the lifetime goal of achieving my bachelor's degree. I have not acquired any more student debt, and through the program was able to have time off from work to study. I even graduated magna cum laude! Recently, I was hired as a lead teacher with Educare of Omaha in their EHS program. I can better support my own family, and I have the knowledge and experience to be an advocate for young children and their families. I look forward to a long future of working in the early childhood field all thanks to T.E.A.C.H. Early Childhood Nebraska!
From the bottom of my heart, thank you T.E.A.C.H.!
CAMPAIGN CODE NUMBERS:
Campaign Code: 6765
(For campaigns at University of Nebraska-Lincoln, City of Lincoln, LES, LPS, Lancaster County, SCC and private companies.)
State of Nebraska: 
ADDRESS/PHONE:
650 J Street, Suite 23
Lincoln, NE 68508
402-476-2089
WEBSITE:
CONNECT WITH AGENCY: