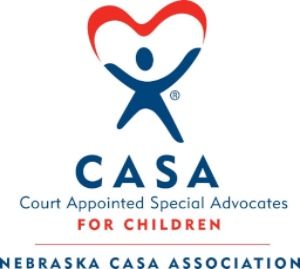 25-WORD DESCRIPTION:
Nebraska CASA supports local programs providing trained and screened volunteers who advocate for abused and neglected children.
 
HOW WE USE YOUR CONTRIBUTIONS:
$5 per week pays for us to recruit volunteers on social media to serve abused and neglected children. ($260)
$25 pays for a new volunteer's training manual.
$45 pays for a full background check for a new volunteer.
$100 pays for the cost of holding a full training class for volunteers.

A STORY FROM OUR AGENCY:
A 14--year-old child was made a ward of the state. He was labeled as "unadoptable" due to his lengthy history of non-compliant behaviors and the history of abuse and neglect he had endured at the hands of his father. He was removed from his father when he was 9. He had not seen his mother since he was 3 weeks old. His aunt tried to care for him, but could not safely meet his needs.
He was assigned a CASA volunteer couple. They followed him from placement to placement, sometimes involving travel 40 to 100 miles away to include intensive treatment, group home, hospitalizations, and foster care.
His CASA volunteers helped him locate extended biological family members providing some family connections in his life. The volunteers have supported him in his recent contacts with his biological mother. He is attending regular high school, has a part-time job, continues to heal in therapy, is getting his driver's permit, and is working with an Independent living specialist. Three years into his case a foster family began caring for him and ultimately became his mom and dad.
CAMPAIGN CODE NUMBERS:
Campaign Code: 6310
(For campaigns at University of Nebraska-Lincoln, City of Lincoln, LES, LPS, Lancaster County, SCC and private companies.)
State of Nebraska: 
ADDRESS/PHONE:
3701 Sumner St
Lincoln, NE 68506
402-477-2788
WEBSITE:
CONNECT WITH AGENCY: