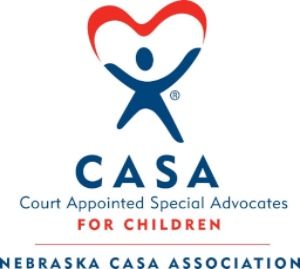 25-WORD DESCRIPTION:
Nebraska CASA is a network of programs in 52 counties providing trained volunteers to advocate for abused and neglected children in the courts. 
 
HOW WE USE YOUR CONTRIBUTIONS:
$5 per week pays for us to recruit volunteers on social media to serve abused and neglected children. ($260)
$25 pays for a new volunteer's training manual.
$45 pays for a full background check for a new volunteer.
$100 pays for the cost of holding a full training class for volunteers.

A STORY FROM OUR AGENCY:
Thomas was traveling from California to Michigan with his mother when she was pulled over for speeding on Interstate 80. During the stop, it was discovered that she was carrying a large number of drugs and she was arrested and booked into jail.
This is when Thomas had a case opened, entered foster care, and was assigned a CASA volunteer. Thomas was placed in foster care and his dog was put into the pound. The Nebraska Department of Health and Human Services does not assist with pets. They contacted the local CASA office for assistance. Thomas was very emotional and he did not know what was going to happen to him or when he would ever get home again.
CASA, with assistance and approval from the foster home, freed the dog and returned him to Thomas. This made such a difference yet there was still a long road ahead for Thomas. His volunteer checked in with Thomas on a regular basis and encouraged him and cheered him on and was always pleased to see how things were progressing.
Thomas's mother did everything asked of her and she made it clear she would do "whatever it takes" to get her son back. Mother and son were reunited because she completed her case plan goals in a very timely manner.
CAMPAIGN CODE NUMBERS:
Campaign Code: 6310
(For campaigns at University of Nebraska-Lincoln, City of Lincoln, LES, LPS, Lancaster County, SCC and private companies.)
State of Nebraska: 
ADDRESS/PHONE:
1618 L Street
Lincoln, NE 68508
402-477-2788
WEBSITE:
CONNECT WITH AGENCY: