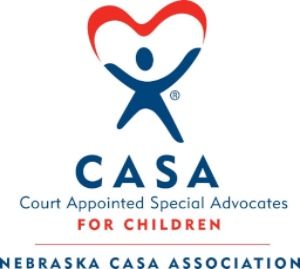 25-WORD DESCRIPTION:
Nebraska CASA is a network of 22 local programs that recruit, screen, train, and support vounteers who advocate for abused and neglected children.
 
HOW WE USE YOUR CONTRIBUTIONS:
$25 purchases a new volunteer training manual.
$2 per week helps us recruit new volunteers to advocate for unserved children. ($104)

A STORY FROM OUR AGENCY:
Twins born 11 weeks premature kept returning to the hospital with failure to thrive. A health care professional saw signs of possible neglect and called the child abuse hotline. The state placed the twins with their aunt, and family support services began. A CASA volunteer was also assigned.
The twins continued to struggle to gain weight and were removed from the aunt's home and placed in traditional foster care against CASA's recommendation.
Our CASA volunteer was the first to realize the mom was lower functioning and couldn't handle the medical needs of the twins. But their aunt could and would provide the opportunity for their mom to have supervised visits.
Our CASA volunteer continued to recommend the twins should be returned to aunt's care and the court agreed. Through many meetings, and the involvement of the CASA volunteer, it was agreed that the Aunt would adopt the children, giving Mom the ability to see them and have a relationship with them. The children's health improved and they were adopted by their aunt. The attorney for the children commented, "This would not have had a happy ending without the work of the CASA volunteer."
The case lasted nearly four years and these children had five different caseworkers, but only one CASA volunteer. Our CASA volunteer was on the case for 1,456 days.
ADDRESS/PHONE:
3701 Sumner St
Lincoln, NE 68506
402-477-2788
WEBSITE:
CONNECT WITH AGENCY: