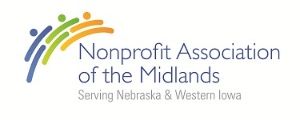 25-WORD DESCRIPTION:
Strengthening the collective voice, leadership, and capacity of nonprofit organizations enriching the quality of community life throughout Nebraska and Western Iowa.

HOW WE USE YOUR CONTRIBUTIONS:
Funds donated to the Nonprofit Association of the Midlands (NAM) will support NAM's operating fund which includes, trainings, events, membership, and nonprofit related programs. Funds help us provide scholarships for events, reduced tuition, and accessible training and networking opportunities.

A STORY FROM OUR AGENCY:
We help nonprofits help their communities. There are thousands of nonprofits in our area – each trying to make a difference on their own. We bring them together so that each member can benefit from our collective strength.
Nonprofit Association of the Midlands (NAM) is the only membership organization in the state dedicated exclusively to working with nonprofits in the Midlands. By connecting organizations with information, education, advocacy and collaboration, we help members focus their energy on the people and communities they serve.
ADDRESS/PHONE:
Nonprofit Association of the Midlands
The Mastercraft
1111 N 13th Street, Suite 213
Omaha, NE 68102
402-557-5800
WEBSITE:
CONNECT WITH AGENCY: