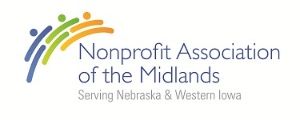 25-WORD DESCRIPTION:
We help nonprofits help their communities. There are thousands of nonprofits in our area – each trying to make a difference on their own. We bring them together so that each member can benefit from our collective strength.

HOW WE USE YOUR CONTRIBUTIONS:
NAM will use funds from Give Nebraska to support office operations and training needs.

A STORY FROM OUR AGENCY:
Nonprofit Association of the Midlands (NAM) is the only membership organization in the state dedicated exclusively to working with nonprofits in the Midlands. By connecting organizations with information, education, advocacy and collaboration, we help members focus their energy on the people and communities they serve.
CAMPAIGN CODE NUMBERS:
Campaign Code: 6760
(For campaigns at University of Nebraska-Lincoln, City of Lincoln, LES, LPS, Lancaster County, SCC and private companies.)
State of Nebraska: 
ADDRESS/PHONE:
Nonprofit Association of the Midlands
The Mastercraft
1111 N 13th Street, Suite 213
Omaha, NE 68102
402-557-5800
WEBSITE:
CONNECT WITH AGENCY: