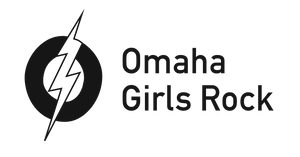 25-WORD DESCRIPTION:
Omaha Girls Rock's mission is to empower youth to find their unique voice through music education, performance, and creativity. Our goal is to cultivate strong, contributing members of our community. Their future starts with Omaha Girls Rock.


HOW WE USE YOUR CONTRIBUTIONS:
$25 pays for drum sticks and guitar picks.
$50 pays for after school supplies at one school.
$250 pays for one participant at Kick Start or Boost summer camp.
$400 pays for one participant at a week of Amplify or Headliner summer camp.

A STORY FROM OUR AGENCY:
"She feels proud of who she is...she'll be assertive in school settings with others. She's a leader in her social group. Her confidence levels are just massive since doing it." - parent of an OGR summer camp participant. Each year, Omaha Girls Rock holds summer camps for youth, ages 4-16. This program provides a safe, creative space for youth to discover themselves and find their voice. Through instrument instruction, band formation and practice, and workshops focused on leadership skills and social justice, youth experience a week filled with discovery and connection. In addition to our summer camp, OGR provides after school programming and year round instrument instruction for metro-area youth. Our participants are able to increase their self confidence due to their exposure to creative, music education.
Through the powerful tool of music and collaboration, our vision is to develop confidence, self reliance and original thinking. By encouraging our students to apply these principles in all aspects of their lives, they will grow into stronger, more valuable citizens.
ADDRESS/PHONE:
6001 Dodge St
CEC 126
Omaha, NE 68182
402-810-4497
WEBSITE:
CONNECT WITH AGENCY: