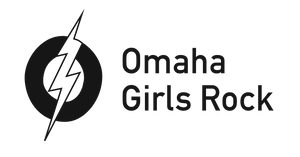 25-WORD DESCRIPTION:
Omaha Girls Rock's mission is to empower youth to find their unique voice through music education, performance, and creativity. We build leaders and creative thinkers! 

HOW WE USE YOUR CONTRIBUTIONS:
$25 pays for a pack of guitar picks.
$50 provides one hour of instrument instruction.
$100 pays a teaching artist for a week of instruction.
$350 full tuition for one week of summer camp.

A STORY FROM OUR AGENCY:
"She feels proud of who she is...she'll be assertive in school settings with others. She's a leader in her social group. Her confidence levels are just massive since doing it." - parent of an OGR summer camp participant. Each year, Omaha Girls Rock holds summer camps for youth, ages 4-16. This program provides a safe, creative space for youth to discover themselves and find their voice. Through instrument instruction, band formation and practice, and workshops focused on leadership skills and social justice, youth experience a week filled with discovery and connection. In addition to our summer camp, OGR provides after school programming and year round instrument instruction for metro-area youth. Our participants are able to increase their self confidence due to their exposure to creative, music education.
CAMPAIGN CODE NUMBERS:
Campaign Code: 6867
(For campaigns at University of Nebraska-Lincoln, City of Lincoln, LES, LPS, Lancaster County, SCC and private companies.)
State of Nebraska: 
ADDRESS/PHONE:
6001 Dodge St
CEC 126.2
Omaha, NE 68182
402-575-5526
WEBSITE:
CONNECT WITH AGENCY: