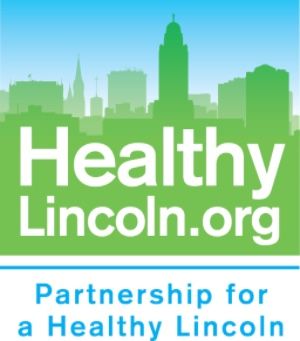 25-WORD DESCRIPTION:
Partnership for a Healthy Lincoln improves the health of the community thousands at a time through improving healthcare access, breastfeeding support and promoting preventative care.

HOW WE USE YOUR CONTRIBUTIONS:
$25 supports our FREE city-wide annual one day event, Streets Alive!, an interactive, outreach festival that improves access to health, wellness, and fitness education and resources in neighborhoods that need it most. Our Streets Alive! Community Development Project leaves a lasting impact beyond the festival by funding projects or programs that improve the health, safety, and vitality of the neighborhoods that host Streets Alive!
$1 a week supports patient outreach that (1) saves lives through early detection by helping to increase colon and breast cancer screening rates (2) helps prevent cancer by working to improve HPV vaccination rates in youth, and (3) improves chronic disease management. ($52)
$100 supports nutrition and fitness education programs like WeCook and Nurture Family that help at-risk kids and families learn skills that support a healthier lifestyle.
$3.75 a week helps improve the lifelong health of low-income moms and babies by providing professional support and education through the Community Breastfeeding Educator program. ($195)

A STORY FROM OUR AGENCY:
Now, more than ever, we are committed to improving the health of everyone in our community and giving children the best start in life.
Partnership for a Healthy Lincoln works to help everyone in our community live longer, healthier lives. Especially during trying times, it's important to provide information, resources, and programming that supports family, child, and senior health. We initiate and/or support projects that:
• improve infant and maternal health and nutrition through breastfeeding support and increased access to quality prenatal care • improve the health of school children and their families through nutrition education and physical fitness programs,
• improve neighborhood health, safety, and vitality through our free annual outreach event, Streets Alive! and the corresponding Community Development Project,
• create better patient outcomes by increasing cancer screening and vaccination rates, improving diabetes management, and promoting proactive patient outreach and preventative care • promote healthy weights by decreasing consumption of sugar-sweetened beverages through a public education media campaign, "Rethink Your Drink", and
• provide science and evidence-based information during public health rises like the COVID 19 pandemic.
Partnering with nonprofits across the community, we also work to improve health equity through coordinated health improvement projects that address significant disparities in health outcomes within Lincoln's most at-risk neighborhoods, aligning healthcare providers and community outreach efforts to connect patients with health resources.
ADDRESS/PHONE:
4600 Valley Road, Suite 250
Lincoln, NE  68510
402-430-9940
WEBSITE:
CONNECT WITH AGENCY: