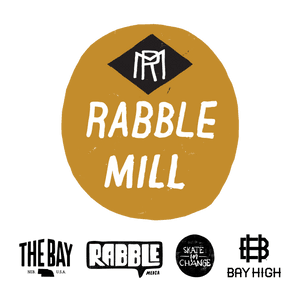 25-WORD DESCRIPTION:
Rabble Mill works with Nebraska youth statewide toward achieving the belonging, purpose, and upward mobility necessary to grow, achieve, and reinvest in their community.
HOW WE USE YOUR CONTRIBUTIONS:
$11 per month pays for 20 students to attend one session of Rabble Club. ($132)
$34 pays for 15 students to attend Beatmaking Club.
$36 per month pays for a Rabble Club Block Party for 40 students. ($432)
$59 pays for 15 students to attend Skate Club.
$89 per month pays for one quarter of a Bay High student's school year. ($1,068)
$150 pays for one skateboard and helmet to be donated to a student.

A STORY FROM OUR AGENCY:
Skateboarding can require so much resilience. To support our kids as they continue to learn, we've brought in community skaters to further inspire them during skate school. With support from our team and community skaters, two elementary-aged students were inspired to try what they considered an advance trick — skating off the stairs. After an hour of repeatedly trying and falling, they hit it! Everyone in the skatepark celebrated as if it were their own victory, and the pride, confidence, and joy these young skaters felt were obvious.
ADDRESS/PHONE:
2005 Y Street
Lincoln, NE 68503
402-310-5215
WEBSITE:
CONNECT WITH AGENCY: