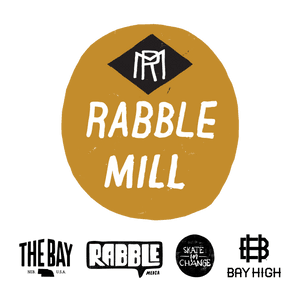 25-WORD DESCRIPTION:
Rabble Mill works with Nebraska youth statewide toward achieving the belonging, purpose, and upward mobility necessary to grow, achieve, and reinvest in their community.
HOW WE USE YOUR CONTRIBUTIONS:
$11 per month pays for 20 students to attend one session of Rabble Club. ($132)
$34 pays for 15 students to attend Beatmaking Club.
$36 per month pays for a Rabble Club Block Party for 40 students. ($432)
$59 pays for 15 students to attend Skate Club.
$89 per month pays for one quarter of a Bay High student's school year. ($1,068)
$150 pays for one skateboard and helmet to be donated to a student.

A STORY FROM OUR AGENCY:
Tom was at The Bay the very first day we opened in the Gateway Mall in 2010. He and Will bonded through their love of skateboarding and involvement in Skate for Change. Will was the first person through the doors when we opened in our new location at 20th and Y. The Bay was an integral part of their formative years, and now, 12 years later, they're valuable staff members, teaching Skate School, programming skate clubs and summer camps, and curating events (including creating our monthly Art + Thrift event!). They are taking their own experiences and backgrounds to empower the next generation.
CAMPAIGN CODE NUMBERS:
Campaign Code: 6435
(For campaigns at University of Nebraska-Lincoln, City of Lincoln, LES, LPS, Lancaster County, SCC and private companies.)
State of Nebraska: 
ADDRESS/PHONE:
2005 Y Street
Lincoln, NE 68503
402-310-5215
WEBSITE:
CONNECT WITH AGENCY: