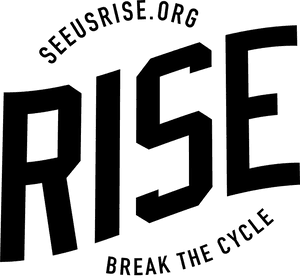 25-WORD DESCRIPTION:
RISE is the largest nonprofit organization in Nebraska focused solely on habilitative programming in prisons and reentry support.

HOW WE USE YOUR CONTRIBUTIONS:
$25 provides a RISE curriculum book.

$50 provides interview clothing.

$100 purchases a "Welcome Home" bag with hygiene supplies $250 Sponsor dinner for our Family Program.

$500 assists with housing costs.

$1,100 sponsors a participant through our in-prison program.

A STORY FROM OUR AGENCY:
Miguel* is returning to the community this year after serving 22 years in prison. As a young adult, he led one of the largest gangs in the state and caused a lot of harm to the community, mostly to rival gang members. When he got to prison on a 40-60 year sentence he was 21 years old.
Miguel's childhood was riddled with adversity; fractured family, violence, and numerous traumatic events in his early years. He sought approval and acceptance in a neighborhood gang.
Miguel has been preparing himself for a return to the community and fighting to improve his mental health for the past few years but he still felt lost and alone. The RISE program came into his life at just the right time. He dove into the character development work in the program where he could reckon with his deep shame and work through forgiveness, learn coping strategies, and put a solid plan in place for his re-entry.
Miguel has done the hard work of self-reflection and self-accountability. For the first time ever he says today he is hopeful and sees a future for himself. He's beaming in his cap and gown at the RISE graduation.
At RISE, our "inside/out" model works because we have a trust-filled relationship established with Miguel that is earned over time during his incarceration and will continue as he returns home. He'll have case management, programming, peer support, and employment opportunities to ensure the new chapter of his life will get the start it needs.
ADDRESS/PHONE:
3555 Farnam Street STE 222
Omaha, NE 68131
402-999-8063
WEBSITE:
CONNECT WITH AGENCY: