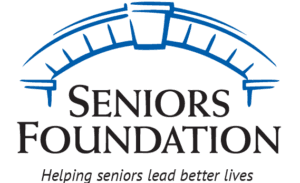 25-WORD DESCRIPTION:
The Seniors Foundation believes that regardless of age or income, people deserve to live their best lives. The Seniors Foundation raises funds to support Aging Partners.

HOW WE USE YOUR CONTRIBUTIONS:
$3 provides a ride for a senior citizen to a doctor appointment or grocery store.
$5.50 per day provides a home delivered meal to a senior citizen shut-in with no other resources.
$120.00 supports a Senior in our community to live longer and healthier lives through the Aging Partners Fitness Center.
$170.50 feeds a Senior a hot delicious home delivered meal each day for a month.

A STORY FROM OUR AGENCY:
Aging Partners heard from a friend about Bev, a senior citizen in Lincoln, who was in need of help. She had no phone, internet or transportation. One of our professional caseworkers visited with Bev who was hesitant to share information. After gaining the trust of the woman, we discovered that 57% of her Social Security is going to pay for housing. Her refrigerator doesn't work, there was no food in the home and she didn't know where to turn for help. Aging Partners is working with her to access affordable housing, food assistance, engagement in social events and access to additional benefits that she was unaware of. This is just one example of how Aging Partners impacts the lives of many of Lincoln's Senior Citizens in poverty every day. Seniors Foundation supports Aging Partners.
ADDRESS/PHONE:
420 Victory Park Lane
Lincoln  NE  68510
402-441-6179
WEBSITE:
CONNECT WITH AGENCY: