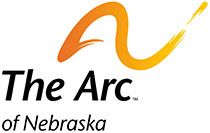 25-WORD DESCRIPTION:
The Arc of Nebraska advocates for the rights and full participation of all children and adults with intellectual and developmental disabilities.
HOW WE USE YOUR CONTRIBUTIONS:
$35 Pays for a Self Advocate to attend our annual Senatorial Dinner.

A STORY FROM OUR AGENCY:
All Nebraskans with disabilities benefit from The Arc of Nebraska's tireless advocacy. Last year our work meant providing services to over 500 more individuals; removing them from the waitlist which can be as long as eight years or more. We worked to bring historic increases to service providers for salary increases and a new support waiver for families who need accommodations for their loved ones with disabilities. Our goal is to make every Nebraskan's life with disabilities better every day!
ADDRESS/PHONE:
215 Centennial Mall South, Suite 508
Lincoln, NE 68508
402-475-4407
WEBSITE:
CONNECT WITH AGENCY: