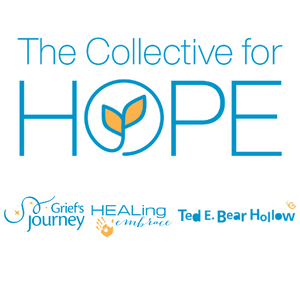 25-WORD DESCRIPTION:
The Collective for Hope combines the strength of its program brands and co-located services to lead response to loss, elevate the value of grief companionship, and promote healthy survivorship.

HOW WE USE YOUR CONTRIBUTIONS:
$40 pays for the grief resources and materials in a single bereavement care package.
$65 pays for the materials and customization for a single weighted bear of HEALing Embrace.
$250 pays for the materials and shipping costs associated with one virtual 8-session bereavement cohort.

A STORY FROM OUR AGENCY:
"The Collective for Hope is an important resource in our community that works tirelessly to assist children and adults with traumatic issues that hamper their well being. We are particularly grateful to have them as a partner as they work with children in our District."
-Toba Cohen-Dunning, Omaha Public Schools Foundation Executive Director and National Schools Foundation Association Board President.
 
CAMPAIGN CODE NUMBERS:
Campaign Code: 6854
(For campaigns at University of Nebraska-Lincoln, City of Lincoln, LES, LPS, Lancaster County, SCC and private companies.)
State of Nebraska: 
ADDRESS/PHONE:
7811 Farnam Drive
Omaha, NE 68114

402-502-2773
WEBSITE:
CONNECT WITH AGENCY: