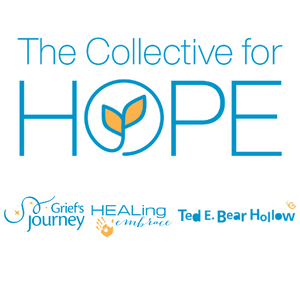 25-WORD DESCRIPTION:
The Collective for Hope combines the strength of its program brands and co-located services to lead response to loss, elevate the value of grief companionship, and promote healthy survivorship.

HOW WE USE YOUR CONTRIBUTIONS:
$40 covers the cost of care package supplies, including: books, self-care items, art materials, and journals.
$65 sponsors the cost to create and ship a custom weighted bear to a family navigating pregnancy or infant loss.
$200 pays for a life-changing online and/or in-person support group session.
$500 covers the cost of a teen to attend Camp Hope, our semi-annual overnight camp.
$1,000 supports a family of 4 to attend 8-sessons of support groups, together.

A STORY FROM OUR AGENCY:
"I cannot express my gratitude enough for what this group has given my daughters. One of my daughters has had trouble consistently committing to anything but this has been a constant that she praises each week. She always says how much she loves the group and the facilitators. Both she and her sister have stated interest in leading a group someday. We went from frequent negative feelings, anxiety attacks and suicidal thoughts, to her looking forward to each group, improved relationships in the family and just overall feeling mentally stable and calmer. Thanks for all that your team does!" -Anonymous
ADDRESS/PHONE:
8000 Chicago Street
Omaha, NE 68114

402-502-2773
WEBSITE:
CONNECT WITH AGENCY: